BibleBuddy.io Review
It's not often that religion and technology cross paths in such an innovative manner. In the modern digital world, the variety of online tools for virtually any sphere of life is staggering. BibleBuddy.io is one of those tools, designed to make Bible study an easily accessible and enriching experience. After thoroughly exploring the site, I've compiled my first impressions review that shines a light on its strengths and areas it can certainly improve on will follow.
What is biblebuddy.io ?
In today's fast-paced, digital world, finding personal, spiritual guidance can be challenging. BibleBuddy offers a transformative experience that connects users with the Bible through interactive, scripture-based conversations. This revolutionary chatbot paves the way for individuals to explore their faith and grow spiritually, in their own time and at their own pace via whatsapp. 
A Unique Approach to Scripture Engagement
biblebuddy.io

takes a refreshing approach to faith-based interactions. This platform allows users to

chat with the Bible as if it were their best friend

,(please note that it does not replace the place of the holy spirit) breaking down the barriers of traditional scripture reading. Users can start their journey for free and find solace, inspiration, and support from their newfound friend – the Bible. And one important feature of buddy.io is the fact that it utilizes WhatsApp. So need to download any additional software.
My Personal Experience with Bible Buddy.io
I decided to try it out for myself so here are the following steps.
Step 1
Access the Buddy Bible website ideally using your mobile device, and it will initiate a conversation on WhatsApp. If you're using a computer, be aware that you may need to install the WhatsApp desktop application if it's not already present. After clicking on the link, you'll encounter the following.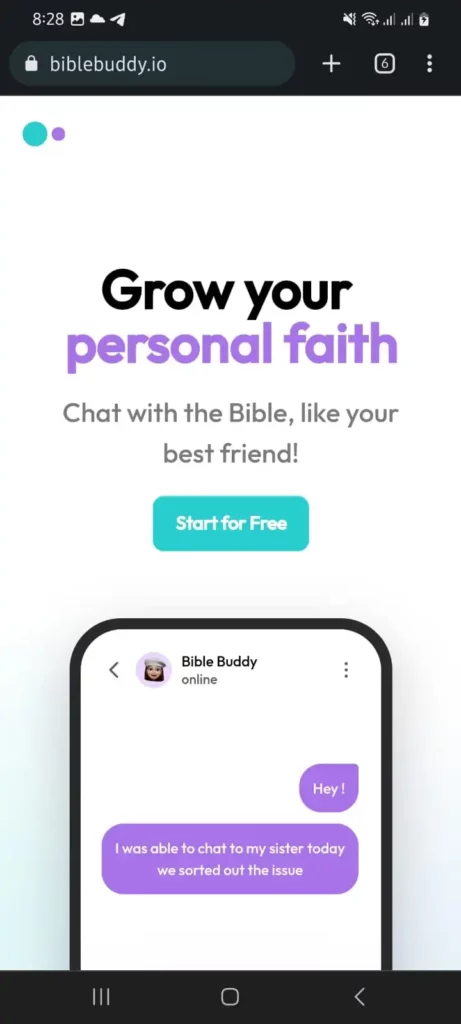 Step 2
Click on Start Here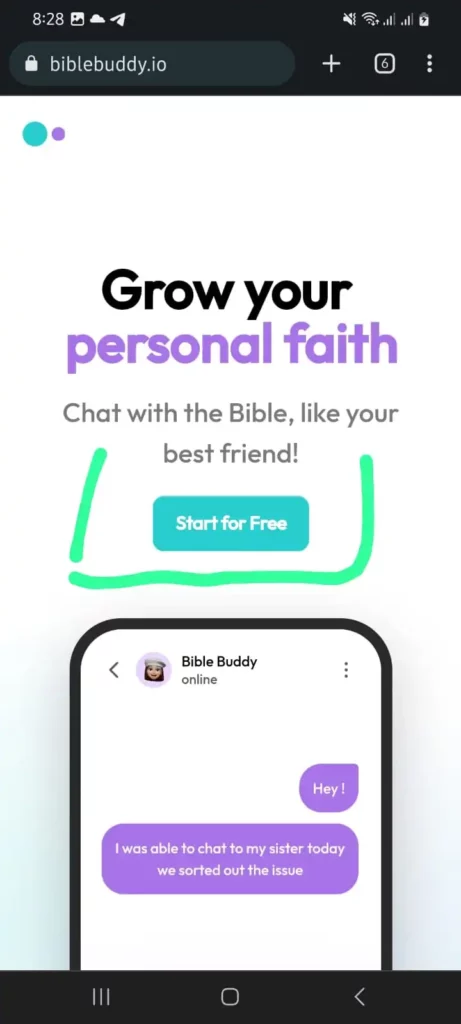 Step 3
Send the preprogrammed message "hey can I get started?", then click on "Yes to Confirm"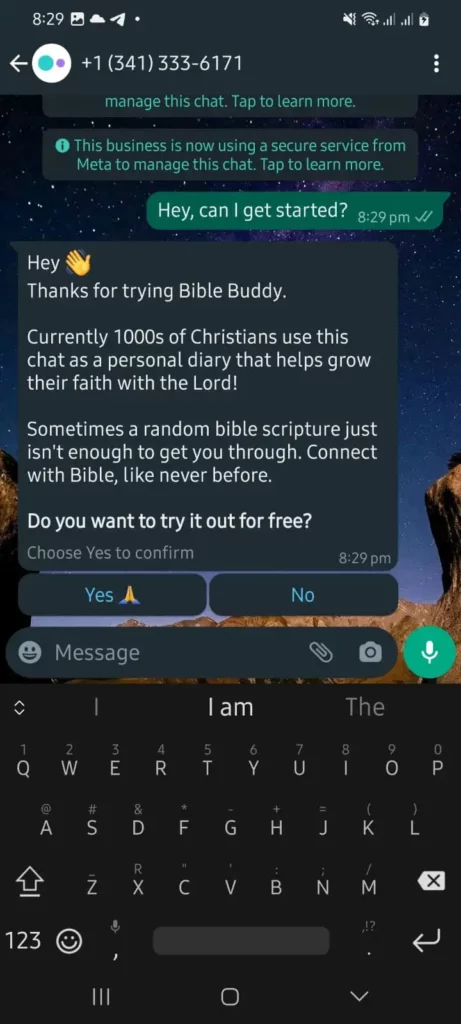 Step 3
Upon reaching this point, Bible Buddy will ask for your first name, email address, and age. After providing this information, you can begin interacting with it. Let's proceed to the next step. Please remember to use English for your interactions.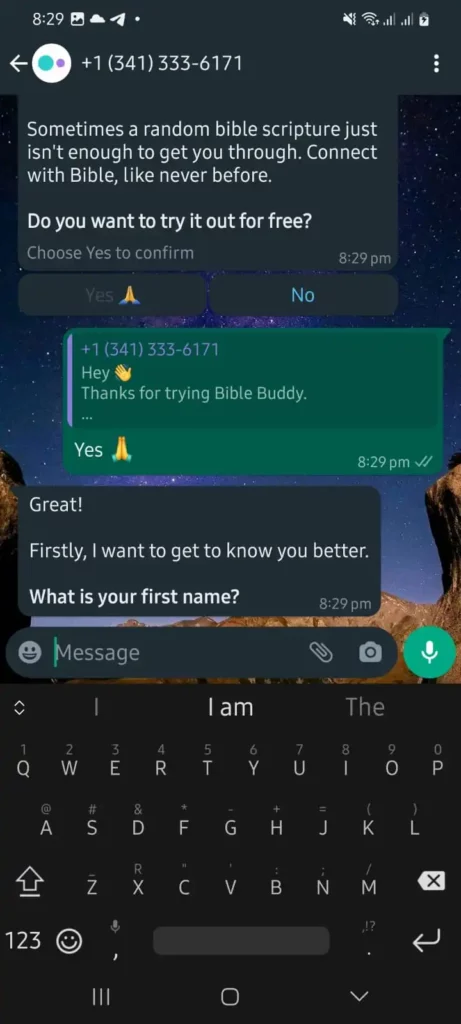 Step 4
Once you've input the required details, This is where you can start conversing with Bible Buddy. For instance, I initiated a discussion about the "power of the Holy Spirit".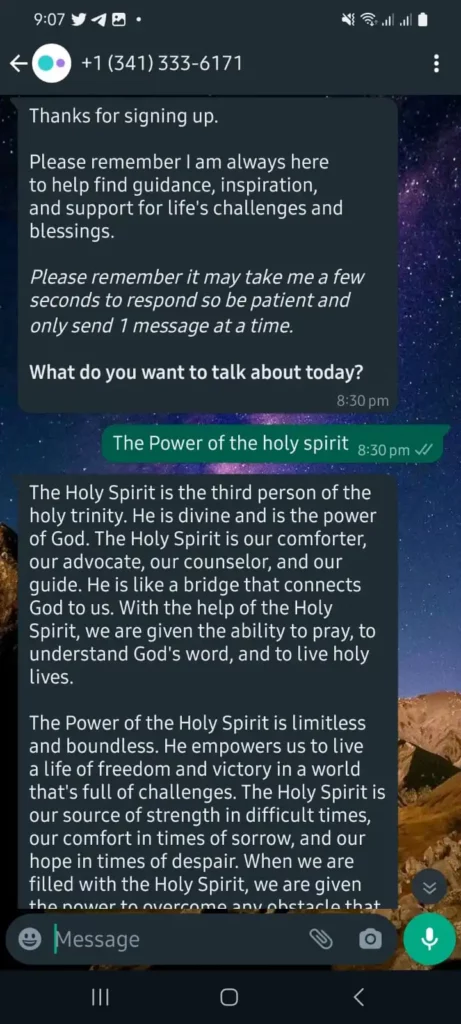 Kudos to biblebuddy.io, it provided a rather satisfactory answer as displayed in the previous chat, prompting me to ask a follow-up question.
Take note of how it uses my name for more personalized interaction.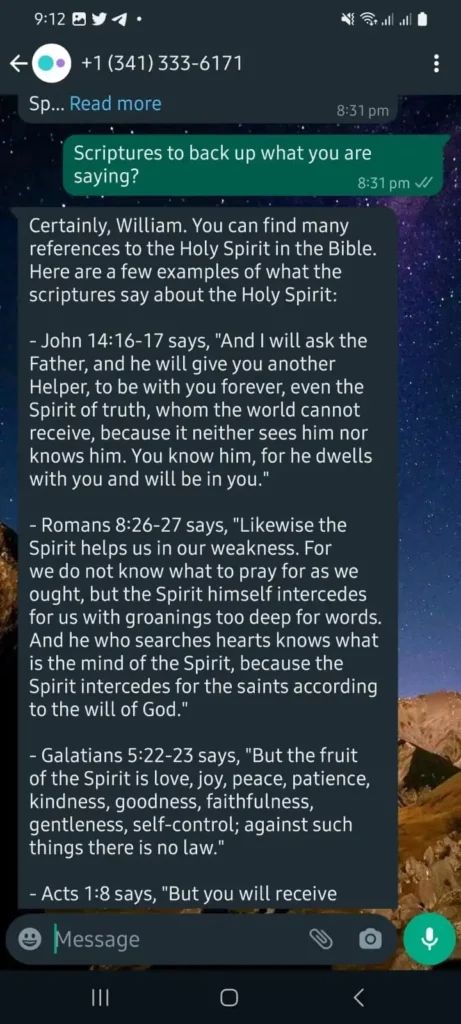 Personal Testimonials: Positive Impact and Transformation
BibleBuddy is not just a digital platform; it has real-life impact. 
Mehn this is nice. I have shared the link to few of my friends already pic.twitter.com/DNpVoXkSDO

— Amarachi Lovelyne (@asannaya1) June 7, 2023
Bookmark and Reflect: An Interactive Digital Diary
A unique feature of BibleBuddy is the ability to bookmark verses that resonate with the users. These saved verses can act as reminders, providing comfort, encouragement, or guidance when needed, enhancing the personal and reflective nature of the user's spiritual journey.
Growth and Satisfaction: An Evolving Faith Community
Since its launch, BibleBuddy has attracted a vibrant community of over 500 users who have collectively sent more than 10,000 messages. The service has also received a high user rating of 9 out of 10 stars, signifying the high level of satisfaction within the community.
The Future of Faith-Based Engagement
BibleBuddy is not just a tool; it is an invitation to "Connect with the Bible, like never before." This platform is transforming the way individuals interact with their faith, opening up new possibilities for growth, understanding, and personal fulfillment. So why wait? Start your journey with BibleBuddy today, and embark on a unique spiritual adventure!
My Final Thoughts
Having used biblebuddy.io, I would say  it's a revolutionary tool paving the way for a new era of spiritual connection and faith growth.  With the rising popularity of artificial intelligence and the rising concern about it's ability to present accurate information, this tool offers a breath of fresh air. In as much as it helps, I would say don't completely outsource your study to a chatbot. At the end of the day, cross check what ever it says with the bible and as the scriptures say, the devil can also appear as an Angel of Light. Shalom.
P.S Have you read Rhapsody of Realities Daily Devotional? You can get a free PDF copy here.
Frequently Asked Questions
What is BibleBuddy?
BibleBuddy is an innovative online chatbot that facilitates Scripture-based conversations. It allows users to connect with the Bible in a personal, intimate manner, similar to chatting with a best friend.
How much does BibleBuddy cost?
For now, You can start using BibleBuddy for free. Simply visit the website and begin your journey of growing your personal faith. Whether it becomes a paid service remains to be seen.
Is BibleBuddy always available?
Yes, BibleBuddy is an online platform that is always available to provide guidance, inspiration, and support based on the Bible's teachings.
How does BibleBuddy work?
BibleBuddy engages users in conversation on whatsapp, applying relevant Scripture verses to different situations in life.
Can I save or bookmark Bible verses on BibleBuddy?
Absolutely! BibleBuddy allows users to bookmark specific verses that resonate with them. These can be revisited any time for guidance or comfort.
How can BibleBuddy help me grow my faith?
BibleBuddy helps you engage with the Bible in a novel and personal way. The tailored, conversational approach allows you to connect with the Bible's teachings on a deeper level, thereby fostering personal spiritual growth.