---
Effective Bible Study with Rhapsody of Realities
Introduction
Rhapsody of Realities is a daily devotional guide that has been designed to enhance your spiritual growth and development. It is more than just a book; it's a guide to a deeper understanding of God's Word. This article will guide you on how to effectively study the Bible using Rhapsody of Realities.
Understanding Rhapsody of Realities
Rhapsody of Realities, often referred to as the "Messenger Angel," is a monthly publication by Christ Embassy, written by Pastor Chris Oyakhilome. It provides a comprehensive guide to exploring the truths of the Bible and applying them to daily life. The devotional is now available in all known 7,858 living languages of the world, making it accessible to all ages and nations.
Multimedia Resources
In this video below, Pastor Chris Oyakhilome explains the what, the why and the how of Bible Study.
How to Study the Bible with Rhapsody of Realities
Step 1: Get Rhapsody of Realities
There are several ways to get Rhapsody of Realities. You can download the Rhapsody App. This app will provide you with daily devotional content and reminders to keep you on track, you can also download a PDF copy here or visit the nearest christ embassy church to get a Physical copy.
Read the ultimate guide on how to get Rhapsody of Realities
Step 2: Set Aside a Quiet Time for Study
The best time to study Rhapsody of Realities is at the start of the day. Give more attention to your study time. Be settled when you study and you'll get more.
Step 3: Read the Daily Devotional
Each day, Rhapsody of Realities provides a specific scripture passage, a message, a confession, and a prayer. Start by reading the scripture passage and the accompanying message.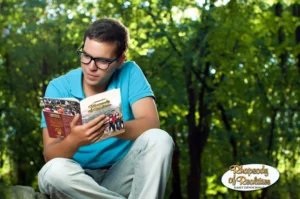 Step 4: Reflect on the Message
After reading the message, take some time to reflect on it. What does it mean to you? How does it apply to your life? This reflection helps you internalize the message and apply it to your daily life.
Step 5: Make Your Confession
The daily devotional includes a confession or an affirmation. Speak it out loud and believe in your heart that it is true. Recite them over and over again until the words get into your spirit.
Step 6: Pray the Prayer
Pray the prayer provided in the devotional out loud. These prayers are potent words that will cause changes if you use them the right way.
Step 7: Follow the Bible Study Plan
Go through the entire Bible in one year with the one-year reading plan, or in two years with the two-year reading plan. Stick with it diligently and consistently.
Step 8: Follow the Counsel and Instructions
Take heed to follow the instructions and insights included in the articles. These instructions are of the Spirit and they'll catapult you to higher levels if you observe them.
Final Thoughts
Studying the Bible with Rhapsody of Realities can be a transformative experience. It provides a structured approach to understanding and applying the Word of God to your life. Remember, the key to effective Bible study is consistency. Make it a daily habit, and you will see your life transform.
---
Posts you may be interested in
Keweno has been reading and distributing Rhapsody of Realities Daily Devotional since 2001.