I thought about this question and am sure you also have: What Is The Meaning Of Rhapsody of Realities?
Let's start by taking a look at the term "Rhapsody" and "Realities" individually. Rhapsody often refers to a piece of music with no set form, which is passionate and expressive.
When coupled with "Realities," the phrase implies a passionate exploration and expression of divine truths and spiritual principles – the realities of life through the lens of Christianity.
In essence, the meaning of Rhapsody of Realities lies in its purpose: to create a rich tapestry of divine truths, helping readers navigate their faith, deepen their relationship with God, and live out the realities of the Christian faith in a practical, empowering, and transformative way.
What better way to find out than to hear from the author himself Pastor Chis Oyakhilome?  Let's watch this video to find out more.
What Is The Meaning Of Rhapsody of Realities? Audio Transcript
To understand the meaning of Rhapsody of Realities. See, you got to understand what it is from the very front cover. We're saying this is a compendium of amazing realities in a long poem.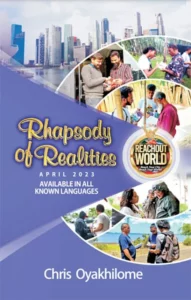 Think about it, and it's all about one man: His name is Jesus. When you read Rhapsody, you love Jesus more, you fall in love with him. You've studied Rhapsody? You'd love your Bible.  
You know, somebody said, ah, what if people begin to read Rhapsody and then they don't read the Bible anymore? I say it is impossible. It's impossible to truly study Rhapsody and minimize the importance of your Bible. It is impossible. 
 Rhapsody is all about the Bible!! Having those scriptures, the verses that always guide you back to the Bible and without the Bible, you can't study Rhapsody. 
Posts you may be interested in
Keweno has been reading and distributing Rhapsody of Realities Daily Devotional since 2001.